BRIGG and DISTRICT NETBALL CLUB
A Local Club For Local Children
Previous match reports
Saturday 1st Aug
The senior a team went to Manchester in the rain! 56 teams took part and in the morning section we started with a win 6 v 4 , then lost 10 v 11, and 3 v 8 and 2 v 8 against some very strong opposition. The next game gave us a point as we lost 7 v 13 but we pulled back in the next game with a 7 all draw and ended on a win. This saw us go into the knock out stages where we had a great first game winning 9 v 1. Which then gave us another round again we won this 6 v 4
We then lost the quarter final 5 v 11. Everyone had a great day despite the rain
Friday the 19th June
The following players were recognised as players of the season fro their team (voted on at each match by the opposition – most votes win)
U11 – Katie Robinson U12 – Evie Jenkins U14 blue Megan Chapman U14 black – Sophie prentice U16 Emily Marshall U19 Bryony Franks
Senior A Laura Marshall Senior B Alison Pullan
Well done everyone and all those who received votes during the season and picked up certificates
The finial placing were: U11's – 3rd U12's – 1st U14 blue – 3rd U16s – 3rd U19s 2nd
Sunday 31st May.
Hannah and Emily are pictured on our photographs page with the u16 county squad who represented Lincolnshire at the East Midlands festival. Lincolnshire won the event, both Brigg girls got invites to some pre regional training – Well done girls, were very proud of you both. Mark also represented Lincolnshire at the event as their B award Umpire.
Sunday 10th May
U11 (hi 5) and u12 went to Horncastle and played in the annual tournament, All played well and we had some very tight games Hi 5 came 3rd in their group and finished 5th overall
U12s came 4th in their group and 7th overall
Sunday 17th may
U14 Blues came 1st in their group – but lost the semi to finish up 3rd overall
U14 Blacks played very well finishing 8th with some new members playing their first games and 2 u12s playing up
U16 Black finished 2nd in their group and lost on golden goal in the semi to finish 4th overall
U16 Blues finished 6th – this team had 2 new players and all but 2 of the 8 strong team were u14 players – playing in the higher age group.
A special thanks goes to Laura and Nat for attending as team managers
Thursday 7th May
The u14s started the summer Hull league and played Chevrons 2 – and had a very convincing win
Last week they played Goole and again came away with a fantastic win
This is new team grouping of 9 players – one which is proving a good combination
Sunday 26th April
The teams went to a sunny Skegness to play in in an adult tournament. The A team won their morning section and went into the the first group in the afternoon, and finished 5th overall. Laura had to stop playing after breaking her finger, lets hope for a speedy recovery. Nat, captain took over responsibility for shooting, a great team effort by all. Nat, Laura, Paula, Bev, Sam, Donna, and Katie.
The B team were their to enjoy the day and the weather. We had a few injuries along the way with Joy ending up on crutches. We will not mention the scores, or their position, but they all had good fun. Vanessa, Deb, Kirsty, Emma, Sophie, ( who was only14 on the day, belated Happy Birthday) Mille (only 15), Joy, Laura, Nat. And a special thanks to Catlin for joining them in the afternoon to enable them to play on as injuries stopped Joy, Debs, and Nat
The under 17s played some great netball and finished 2nd in their group in the morning and playing some very tough games in the 2nd group in the afternoon winning their final game against the group winners to finish 5th in their group, 11th overall. Bryony, Emily, Nic, Kim, Hannah, Kelly, Alison, and Catlin.
Saturday 25th April

Brigg U12's played their final League match today against Horncastle Belles Yellow and won 27 - 1. The girls all played a fantastic game giving it 100% ! Steph and Chloe concentrating on getting in the goals. Louisa had a fantastic game, the energy this girl has is outstanding. Laura, Eleanor, Robyn & Charley defending every ball that came their way. Evie & Rosie (also GA) in centre court fought for every ball both feeding the shooters and defending. .Altogether the girls played a brilliant game and deserved to win the game. With this win the team went undefeated all season to win the league Well Done Everyone!!
Evie voted player of the match by the opposing team. Steph voted players player!

The U14 Brigg Blue played their last two league matches today. Winning the first match against Horncastle Yellow 25-12 A tough match for all on court, but as usual the girls gave everything everyone of them fighting to win this game. With only one defeat all season it was down to who scored the most goals against each other. Emily, Katie & Becky defending every ball they could with some tough opposition from Horncastle attack. Megan fought hard to defend and gain possession to work the ball to our attack . Amy there to work the ball in for Devon & Laura to score goals!! A great result for an under 13s team to do this in an under 14s league

Our second match was against Horncastle Black and again came away winners 45 - 7 ! Again the girls played their game, but with some changes in positions - Devon & Becky were shooting, Amy and Megan staying in centre court Laura Charlotte, Katie & Emily in defence.
Well done girls, your team spirit, support for each other and commitment to netball is a credit to the Club.

Thursday 26th March
The u11 Hi 5 team played Lincoln city and despite winning the first quarter 5 v 0, and neither team scoring in the 2nd quarter – ended up losing by 1 goal
The u14 Blue team – had a fantastic game and without letting in a goal the defence were very strong – Katie / Emily / Charlotte and Becky
The shooters at the other end of the court were on target – despite the wind – well done Laura and Devon Amy and Megan had great games linking with the 2 ends and feeding the shooters. The end result was 43 v 0 against Lincoln city B
The u14 Black team – welcomed 2 new players to court Emily and Grace who both added strength to the team – however maybe not the best game for their first for the club – but hopefully one of many more to come. Emily linked in attack with Jemma / Izzy / Becky and both Sophie's whilst Grace fought hard in defence with Becky (before swapping to centre), Zoe and Alex. The score line certainly doesn't reflect the effort by all 9 girls who need a great pat on the back for not giving up – the end result was 3 v 43 to Lincoln City A
Week end 28th Feb & 1st March
U14 Black v Horncastle yellow
A very tight first half quarter saw Brigg down 0 v 4 - some excellent tight defence by Lucy and Izzy and some great turn overs in centre court by Zoλ, Sophie a and Sophie p - a tremendous team effort, it was just that Gemma nor Becky could find the net despite their chances - however this didn't continue with one or two players heads going down, despite a few changes to try to turn things around at half time Horncastle pulled away during the next 3 quarters - After that Horncastle pulled away and won 34 v 2

U14 blue v Skegness
The first quarter saw Brigg of to a great start ending 17 v 0 Laura and Devon were both well on form and some well placed feeds by Megan into the shooters got the game off to this great start. The 2nd quarter saw Skegness score 2 goals but Brigg went into the half time break 30 v 2 Some great defensive work with Katie , Becky and Emily helped to keep the attack pushing forward. The 3rd quarter Brigg went out with a target and finished it 51 v 2 With Amy now awake she made the transfer from defence to attack far smoother and linked with Megan to the usual standard
The last quarter say Brigg continue their success and ended up 70 v 3 Although not the best performance from Brigg a very good result

U11' s played only 3 quarters as Fenland were late but some great play by all and saw them finish with a draw but game classed as a friendly

Senior b v Spalding
End of first quarter saw a draw 10 all. In 2nd quarter Spalding pulled away and went into half time 23 v 19. The 3rd quarter was not the best for Briggs attack with only 2 goals scored - the defence kept tight and lead to them to only scoring 10 goals so the 3rd quarter ended 21 v 33
In the last quarter efforts were high but Brigg ended up losing 28 v 47

Senior a v Spalding
Giving debut to Donna. at centre Briggs attack was well on form at 1st quarter ending 17 v 5. The linkage between Laura, Katie and Nat was not broken in the 2nd quarter and the defence of Jenny and Bev kept things tight and Brigg went to half time leading 43 v 15. The 3rd quarter saw the same effort with the score 43 v 15. Some great turnovers in centre court with Paula, Donna., Charmin through out the game helped secure the over all win with Brigg finishing 55 v 22
Match report from Vanessa

--------------------------
<![if !supportLineBreakNewLine]>
<![endif]>
Saturdays 7th February matches postponed due to bad weather

Sunday 8th February

U16 took on Horncastle and at no point was there more than 3 goals in it either way, a draw was the forest result - however that was not to be with the girls losing 32 v 33 Excellent defending at times kept them in the game with Becki , Kim and Millie being tight on their shooters
A few missed goals and bad passes by all which could have turned the game, but a very tight game and a great one to watch - kept us on the edge of our seats and biting our nails all the way to the last seconds

Then following that great game we took on Skegness seasiders and scored a hat trick over them

U12s won 30 v 10 with some excellent shooting from Steph and Rosie (Rosie made her debut in the side as she is an under 11 player)
Robyn in the last half was great support to Steph and played some great balls into her and even scored a few herself
The rest of the team played well and it was a pleasure to watch great teamwork - the team was Steph. Rosie. Robyn Charlie. Louise Laura. Eleanor and Evie

U16 following their 1 goal defeat in the morning came on court determined not to loose again and the 7 players gave it their all winning by 5 goals in the end - the team was Nic. Hannah, Kelly. Emily, Mille, Beckie and Kim

U19s then had to follow and with grace making thier debut in the league for this season - Skegness were wanting to go home with a win under their belt. Whilst that wasn't to happen - laura and alison hardly missed a shot and the feeding in with Bry and Nat was almost as accurate as required through out. The back was solid with Catlin, Charmin, grace and cat the only sad point was Catlin have to come off injured in the 3rd quarter
A great win 54 v 32 secured the hat trick for Brigg
Match report from Vanessa
Saturday January 23rd 2009
Brigg under 14s Blue played Sleaford, and put in an excellent performance with some team members achieving personal bests. Brigg came out winners by a score of 36 - 8
On the same fixture list Brigg under 12s played against the Barge and Bottle. With Brigg showing some excellent defensive work it was in to the second half before Barge managed to put a score on the sheet. Brigg won that game 20- 2
Brigg under 14s Black played Louth. Brigg was without 3 regular players so we had the opportunity to give some new players a chance to shine. Despite the effort put in by all the players Brigg who won the last quarter, Brigg lost the match
All three games were played on some very slippery courts but that didn't stop all the players from all the teams giving it 100%. The hot chocolate drinks provided by Mrs Blanchard and Mrs Jenkins went down a treat and we would like to say a big thank you to them.
The Brigg Seniors A took on Hinchcliffe and again Brigg had 2 regular players off and had the chance to give two new players a start. It was a good team performance with lots of effort. The first quarter was goal for goal, and although Brigg lost the match it was not for lack of trying.
Well done to all our players
10th January 2009

The U14 Black played against Horncastle Red today. They lost the match 49 -2 but everyone played really well giving 100%, well done to Jemma who scored the first goal for Brigg. The defenders had to work really hard Lucy playing a brilliant Goal Keeper, Alex playing WD and also centre had an exhausting game. Sophie P played defence and centre court and was voted opposing team player and also coaches player she had a really good match. Becky played centre court and defence and worked hard trying to stop the opposing GA tough job! Zoe worked well in defence and stuck to the opposing team player, Sophie WA managed to feed the ball well to the shooters when we gained possession. Harriet played her game fighting for every ball, a tough match for all but everyone seemed to enjoy it.

Hi 5 Brigg v Louth
What a game these hi5 players had!
The team _- Bethany, Rosie, Katie, Sophie, Ellie, Rachel & Amelia
A brilliant game to watch some really good netball from both teams. The girls were really on form today and played some excellent netball a tremendous team spirit! Rachel was voted opposing team player,
Amelia - Players Player & Katie coaches players. The girls came away winning 13 - 5 Well done everyone a really good match!

Megz
December and January
A few matches had to be rearranged, what with Christmas and the winter ailments taking their toll. In January are Senior B team was due to play Boston, but Boston forfeited the match. Likewise our under 14s Blue should have played Boston, but this also was forfeited by Boston.
Thursday 4th November 2008
On a very cold night Brigg under 16s took on Lincoln, all players soon worked up a sweat but Brigg came out winners with a score of 55 - 28
Sunday16th November
Under 16s beat Fenland 45 - 22
Saturday 12th November
Under 11s lost to Horncastle and on the same day under 14s Black lost against Fenland however under 14s Blue beat Lincoln City 21 - 14 plus under 16s beat Louth A 48 - 43
Saturday 8 November
Brigg Black Under 14s lost to Sleaford but on the same day drew against Skegness 12 - 12
Under 12s beat Sleaford 25 - 2
Saturday 18th October
Brigg under 11s played Hi5 at home to Barge& Bottle Final score = Brigg 2 Barge & Bottle 4
Both Brigg Blue and Brigg Black under 14s played at home to Horncastle teams Final scores Brigg Blue = 17 Horncastle Red 41
Brigg Black = 6 Horncastle Black 17
Sunday 19th October
Brigg Blue Seniors played at home to Louth B. Final score = Brigg Blue 23 Louth B 45
Wednesday 15th October
Brigg Black Seniors played at home to Sleaford. Final score = Brigg Black 31 Sleaford 43
Saturday 11th October
Brigg under 14s Blue took on the indomitable Brigg Black in this epic club tussle. The final score does not reflect the determination of both teams, however in all things there must be a winner, and in this case it was Brigg Blue who came away 51 - 3 victors
Saturday 27th September
Brigg under 14s Blue took on Louth at St Georges School Sleaford and came away with a 26 - 8 win. This is the team that played in the under 12s last season and finished as league champions. Most of this team are just 12 years old, so to start in this way in a more senior age group is fantastic. Well done girls keep it up.
Our other matches Brigg Black against Seasiders, and Brigg verses Fenland will have to be rescheduled for a later date
-.-.-.-.-.-.-.-.-.-.-.-.-.-.-.-.-.-.-.-.-.-.-.-.-.-.-.-.-.-.-.-.-.-.-.-.-.-.-.-.-.-.-.-.-.-.-.-.-.-.-.-.-.-.-.-.-.-.-.-.-.-.-.-.-.-.-.-.-.-.-.-.-.-.-.-.-.-.-.-.-.-.
Sunday 20 July was the final of our three days of our open tournament. The weather was a little better this time, but what can we expect it is July and summer. Again the event was a success with most teams saying that they would be back again next year.
Our Junior Tournament took place today Sunday 6th July the weather was rubbish again ! but we still managed to play some good netball. We had 2 under 12 teams entered.
Brigg Black - Laura, Megan, Devon, Emily, Amy, Charlotte, Katie, Chloe & Eleanor. We won every match and won the tournament, not all games were easy but we played as a team all giving 100% as always and we were all in high spirits. We've had a good year !

Brigg Blue - Chloe, Eleanor, Steph, Evie, Sophie only had 5 players so they had to play with other players from the Brigg Black and under 14s which isn't easy when you're not used to other players on the team but there was some good netball and everyone seemed to enjoy it. it's all good experience. Thanks to all at Brigg & District Netball Club for organising the event its such fun !!
Megz x
Thanks Megan, keep up the good work, who knows you may have a future in journalism as a sports reporter.
Sunday 11th May
The under 12's and Hi5's played today in the Horncastle Tournament. Both teams played brilliantly all day with excellent team spirit!
The under 12's team -
L. Major, M. Chapman, E. Fisher, D. Hill, K. Scutt, C. Brown, A. Waddingham & R. Catterick. The team won every match and came away clear winners. Well done Girls !!

The Hi 5's team - C. Taylor, E. Huck, S. Blanchard, E. Jenkins, L .Harris,
C. Marshall, R. Fisher, L. Catterick came away with 4th place they only lost one match and were knocked out in the semi-final . Well done everyone!!
our new ace reporter MEGAN

Sunday 27th April
Three teams went to Skegness to take part in an adult tournament. Although most of the traditional first team players werenot available to play for various reasons this didn't dampen the spirits of those who went. The morning saw some close matches for all 3 teams, and when the teams were regrouped in the afternoon the under16 team and Brigg Black were drawn in the same group. They started the afternoon fixtures against each other and this finished in a draw. Both teams had some excellent matches and in the end it came down to the last game for the under16 team to decide the group winners. Despite some tired legs they gave it their all but lost their only fixture in the afternoon group stages, which meant that they finished 3rd in the group and Brigg Black took the group winners trophies as they won all the afternoon games, other than a draw with our under 16 team.. Brigg Black lost 2 players with injuries through out the day, but pressed on and enjoyed the day. A lot of new friendships was made as a result of the hard fought games. However despite some very close games by odd goals they finished bottom of their group, this was not surprising with Vanessa playing centre. The teams was, Under 16 B Franks captain, A Pullen, H Milles, K Major, C Christher, V Spencer, N Knapton, R Heald, Brigg Black N Shaw captain, T Frear, P Atkinson, B Capp, J Milles, C Smith, C Knutt, Brigg Blue D Shaw captain, V McErlain, V Parker, K Parker, L Spavin, P Lyons, S Spavin, T Peck,
Saturday 26th April
The Hi5 team went to Grantham, this was the first time they had played as a team, but you would not have known this because they all gave it 100%, they finished a very creditable 3rd place, only 1 point behind the runners up. The team was captained by C Taylor with E Huck as vice captain. The rest of the team was, S Blanchard, E Jenkins, L Catterick, R Sayer, C Marshall, L Harris. We must say a big thank you to S Cowling for managing the team for the day.
Previous Week end Games
A young under 14s team travelled to Gotham in Nottinghamshire an played 7 teams. Non of our team had played before. They lost the first game by only 1 goal and another by just 2 goals. This was how close the games were. H Cook was well on form with some excellent shooting through out the day and supported by E Bones (captain) and L Major. The full team was E Bones captain (under 13) H Cook (under 14) R Fisher (under 14) M Roe (under 14) A Cook (under 13) L Major (under 12) E Fisher (under 12) D Hill (under 12). You can see the age of some of our players was very young so finishing 5th over all was a worthy result and some matches were very, very tightly fought.
Saturday 12th April
The under 14s came second in the competition at Goole. Well done girls. This was an exceptional result when you realise that not all of the girls had played together as a team before. There was some excellent defending whilst the attack kept scoring goals. We had a good team spirit through out the day, and we are looking forwards to some more winning games from this team.
Saturday 15th March
The under 12s travelled to Hucxnall in Nottingham for a local competition, and in keeping with their present standards came away clear winners, winning all their matches. Well done girls. Stars of the future. Our B team who were not used to playing together, some only the first time, really started to gel and produced some good team work. Well done to all
Saturday 26th January 2008
The under 12's played a league match today against Horncastle it was a tough (and rough) game but all the girls played a fantastic game giving
100% effort they always play as a team and support each other very well. They only lost by 2 goals 16 -14. Just wanted to say girls you should
be very proud of yourselves well done to every one of you.

Tracy x
Sunday 2nd December
The under 16s travelled to play Lincoln city in their latest league match. The whole team played really well and were desperately unlucky to only draw the match 26-26! Battling against taller opponents Brigg were by far the better team and only missed chances at vital times halted the win. Again missing players through injury (Bryony on crutches), everybody gave. 100% Unlucky, but really well played everyone! Team..... A. PULLEN, N.KNAPTON, K.MAJOR, E.PRENDERGAST, C.CHRISTER, R.HEALD, H.MILLNS. Player of the day.....REBECCA - Absolutely suburb!!! Later in the day the senior B team travelled to play Louth, and after a fairly even battle, pulled away to win fairly comfortably 32-26! Quick passing through centre court, excellent defence in the circle and superb shooting on the day. A patched up team with our shooter doing really well in her first game for Brigg. Another excellent battling performance. A tiring day then, but successful! Team..... Player of the day..... VANESSA McERLAIN - Excellent marking, and some dogged defending in the circle.
Sunday 30th September 2007
The under 12s played in the Horncastle Tournament on Sunday the 30th, and came third taking the Bronze. Five games were played in total. Won 2 8 - 1 against Horncastle.& 7 - 1 against Fenland
Lost 2 5 - 7 against Horncastle Belles Pink & 5 - 7 against Fenland under 14s ( this was a friendly)
Drawn 1 2 - 2 against Chevrons
The team L Major GA, M Chapman C, E Fisher GD, D Hill GK, A Waddington WA, E Siddall WD, C Taylor GS, & C Brown who played WD / GK.
They played really well as a team and every player gave 100%. E Fishers defending was exceptional, L Majors shooting was spot on, even with the cold. M Chapman run her socks off in centre field and played a brilliant game. A Waddinton made some great interceptions. Well Done ! D Hill, who had not played GK that often was exceptional and she got those rebounds. Well Done ! C Taylors shooting was excellent, and E Siddall played WA to start off with but found her feet as WD and played really well. C Brown played as GK and WD and as always with her gave it 100%.
The players who only just moved up from Hi 5 played brilliantly, they played as a team and worked really well together, we can't praise them enough. Well Done Girls
Players Player Of The Day Was E Fisher - Excellent Defending
Captain ( L Major ) and Vice Captain (M Chapman) Comments :- Everyone played really well today, they tried their best. We think we played well as a team. We decided our player of the day was E Fisher because she was always there near the ball and made great interceptions.
Match report submitted by the team captain and vice captain. Nice one girls Keep them coming Sorry I have had to remove Christian names, and be a little formal but this is under instruction from Vanessa. Diggy Teddy
Thursday 27th September
The U16 team travelled away to take on Louth in a league fixture. Although some our normal team players were not available because of injuries/prior commitments etc. The 7 players that took the court played superbly to record a fantastic 34-6 victory! Fine centre court play from Hannah Milnes, and good movement in the shooting circle from Nicola Knapton and Alison Pullen helped to put us in a strong position. Emily Marshall linked the play well at WA, but the star of the night was Rebecca Heald, with an outstanding performance, dominating the play from goal defence, she cut out nearly everything Louth had to offer. With team performances like that, one or two of the more regular players may just find it proves more difficult than they imagine to take their places back in the team! Well done everybody. Onwards and upwards!!!! BRIGG U16 TEAM......
The team was made up as follows..GS ALISON PULLEN, GA NICOLA KNAPTON, WA EMILY MARSHALL, C HANNAH MILNES, WD SARAH HESELTINE, GD REBECCA HEALD, GK EMMA DIBDIN.
Sunday 9th September
The 3 teams travelling to Malta in October took part in a tournament in Sleaford as a practice and get together.
The u16's despite all but one being U15 - played extremely well, as did the 2 players from Horncastle who fitted in very well and are travelling with us. All players gave 100% including our to visiting players players.
In the morning session they won 2 matches and finished mid table, in the afternoon they had similar success. As this was a senior event their achievement was even more remarkable and worthy of credit.
This was the first captaincy for E. Prendergast and her team rotation was a great success. I am sure this is a team which we can build on for Malta. The rest of the team were: N. Knapton / E. Marshall / K. Major / H. Milnes / R. Heald / S. Day & L. Alayej.
The u18's had a hard group in the morning, but managed to make it through into the 3rd group for the afternoon session, and with a 100% record in the afternoon won their section. The team was captained by N. Eceklesy, who played a key role in the center court during the days plays. Joining her in center court was J. Yip and N. Shaw who had some excellent games for her first completion back from an injury that kept her out most of the 2nd half of last season. Welcome Back. With some excellent shooting the duo of S. Dibdin and L. Marshall seemed unstoppable during the afternoon, this combined with the great defensive play of P. Grice and S. Cowling combined to give us the deserved win.
The senior team, had a great experience, and learnt a lot about each others style of play which will help them on their tour. The team was: A. Cowling / A. Eckerelsy/ C. Ashton / B. Franks / C. Christepher / E. Robberts / C. Smith / D. Shaw
Sunday 22nd JULY
I know it is hard to believe, but we finally held the Hi5s event, three weeks after its planned date. The weather forecast had been iffy all week, and on the day we still had reservations about if it should go ahead. In the end we got through the whole day without rain, we even had time to clear away all the equipment before it started to come down again. I know some teams could not make this rearranged date, but what with the school holidays we were fast running out of options and had we not held it last weekend then it would have had to be cancelled for this year. Lets hope next year we return to our usual hot sunny days that have favored us in the past. FULL REPORT
Sunday 15th July Seniors Tournament
About two weeks ago the man at the meteorology office said that the 15th July would be the hottest day of the year, temps in the 80s Fahrenheit, we would all need to stock up on sun bloc to save ourselves from sun burn. We was also told, that if we was taking part in any sporting, or rigorous exercise, we would require plenty of water to stop ourselves suffering from dehydration.
Well we had the water, in plenty, but not as we had planned, we had so much, we had to consider changing from netball to water polo. But joking apart the day was not a washout, we had some excellent games, played in the true spirit of netball. Some teams traveled great distances to attend, and for that alone we are grateful
Domino from Manchester took the gold, with Manor from Barking in Essex the runners up with silver. Chevron from Hull went away with the bronze. FULL REPORT
Sunday 1st July
Well it all looked as if we was going to be lucky, the expected rain that was due on Saturday failed to materialise, and even on the Sunday, first thing it looked good. However when the time came it rained. How it rained, within minutes the water was up to the doors and raising fast, so we had no choice but to telephone everybody and give them the bad news. we are now looking at the calendar to see what we can arrange and when. This is being complicated by the school holidays and people going away, but we will see what we can do. You will just have to watch this space, and be like us and hope for the best.
Sunday 17th June
This was the first of what is now three days of annual tournaments. Although the weather threatened us all day we did get away with just one short shower, but it passed almost unnoticed by the competitors. This day was for the 12s, 13s, 14s and 16 year olds, the very young will have their own Hi5 tournament later on 1st July. The seniors will hold their competition on the 15th July. We attracted over 28 teams in this age range, with some teams travelling from as far away as Kent. Drinks (soft), burgers and other refreshments were available all day, and the staff manning the stalls reported a busy day. The netball was, as we have come to expect, of a very high and competitive standard. At the end of the three days, some time around the 20th July, I hope to be able to publish the full results and placing. But until then you will just have to do with the knowledge, that everybody had a fantastic time and said they are looking forward to next year.
Monday 11th June
Today we entered three teams in the seniors competition with some girls only 15 years of age The new members played well and gave 100% in the adult league .- representing the Brigg Black team the results went against them in the 2nd half but they were just 1 goal behind at half time. The juniors played excellent in the first half and were in the lead at half time, but the stronger side of Revels pulled it back in the 2nd half Brigg Blue were the only team to secure a win in the adult league this week - and everyone played to their max
Saturday 9th June
Hi 5 event

With debuts for E. Siddall and L.Harris the team came 2nd

Despite wins 18 v 11 and 24 v 8 in the early matches

Special thanks to Paula for driving and team managing on the day.

The other team members were L. Major. C. Brown. A. Waddingham. C. Taylor. K. Scutt
well done everybody, hope you enjoyed the experience
Lincolnshire's first Hi 5 festival held at Horncastle
With some excellent wins - Brigg won
Team - L.Major / M. Chapman / E. Huck / C. Brown / C. Taylor / K. Scutt / D. Hill
Saw the u16 with only 2 main squad members of S. Cowling and N. Eckersly take their first defeat of the season.
Debuts foe C. Smith and E. Robberts gave it their all but with some players who were only registered the day before - a strong Barge team took and early lead and finished up winners on the day, despite some tackle changers during each interval - and Brigg making a strong come back to win the last quarter.
The seniors took their 2nd defeat of the league again with some new members playing fro the first time, the line up was:
L. Marshall / S. Dibdin / S. Bird / B. Berry / V. McErlain / L.Lathers / J. Milnes / L. Clarke
Quiz Night on the 20.4.07
- the quiz night was a great success and everyone who attended had a great evening.
Two teams travelled to Skegness to play in the open tournament.
in the morning rounds Brigg Blue finished 2nd in their group and Brigg Black finished 4th
Both teams had some goods wins early on, and new members of the club from Thursday night sessions started to get involved in the clubs events and sprit and many of us came home with the start to our summer tans, and some very sore legs and mussels etc from a very long day and some excellent play - everyone gave it 100%
S. Cowling / S. Dibdin / P. Atkinson / V. McErlain / B. Berry / G. French / N. Ecklersley / S. Bird
B. Franks / E. Robberts / C. Smith / A. Pullan / V. Dibdin / A. Eckersley / Tina / A. Cowling
Saturday 28.4.07 -
Goole brought their Hi 5 teams over to club and we had some friendly matches with our U9's and U11's - a fun morning was had by all, with some excellent play - this was a good preparation ground for our tournament to give our less experienced players some experience of team play before the big day.
Week-end 31st March Friendly match
The under 12s played Horncastle team in their first ever game. Despite having 3 under 11s on court, the score at the end did not reflect of the effort shown by all

The 1st quarter saw Brigg down 2 - 14 but with two positional changers swapping goal shooter and goal attack around, and wing attack and wing defence Brigg won the 2nd quarter 9 - 4
So at half time the score was 11 - 18
A tight 3rd quarter saw it end 20 - 30
But the tired less experienced Brigg team found it hard in the last 15 minutes with the final score being 23 - 43 to Horncastle.

The team was
Captain E.Bones
L..Major
H.Driscoll
M.Chapman
L.Dibdin
E.Fisher
L.Wallis
Saturday 24th March
The under 11s (Hi5 ) The magnificent team work of these youngsters continues to grow They won the first 2 games 10 nil And only let in 5 goals in all 8 matches with 3 being in the last and toughest game against Grimsby 1, which they ended up wining 4 - 3. The girls were on top form. Again they walked away with the Gold, this is the fourth year in a row they have come first and taken Gold.

The team was rotated as per hi 5, and when not on court the 2 players encouraged and supported the others

The full team was, Major, Brown, Chapman, Waddingham, Huck, Taylor, Fisher
A Very Well Done To All

Open game due to be played to day was cancelled by Boston
So Brigg win by default
Saturday 17th March
U14's played Horncastle Belles in their finial fixture of this seasons league. It started off very tight with each team winning their centre and the first quarter saw Brigg finish 5 v 4. the second quarter was just as tight and at half time all was even at 10 goals each.
The third quarter continued the same way with some excellent linkage between deference and attack but for the first time in the game Brigg were down 15 v 16.
All was to lay for in the last quarter and that's what they did. Goals were going in and the 3 deference players took advantage of every interception and loose ball, and kept a clean sheet throughout.
The finial score was 24 v 16 to BRIGG, an all round team performance.
Weekend of 10th and 11th March
Unfortunately as most of you know, the friendly away matches for the under14s,16s, &18s, against Sheffield had to be called off due to the hoist teams being unable to provide the courts. However they have assured us that they will make every effort to rearrange the fixtures for a future date
Saturday 3rd March
The under 14s took on a team from the Barge and Bottle in their league fixture. As we have come to expect this is a keenly fought fixture. The first quarter ended with Brigg 3 - 2 up With some excellent court linkage we ended the half 6 - 3. Shooting came right for us in the second half and we had a lead of 14 - 4 when we into the final quarter. Defence worked well together and we were able to dominate the court and hold them to a single extra goal in the final quarter. The match ended with Brigg wining 19 - 5. Lets see what this does to our league position
Sunday 18th February
The under 16s played Grantham, and with the aid of some excellent marking in defence by Grace and Sarah, coupled to the shooting of both Jenny and Ellie at the other end, who missed very few. Center of the court was dominated by Naomi, Emma and Bryony, who linked both ends together with style. How could we loose ? The final score was 69 - 10 in our favour. This result means that we are still at the top of the table

The under 18s also played against Grantham, in what turned out to be a very physical game in both the shooting circles.
Laura and Steph kept up the very hard work rate, and yet despite a poor last quarter managed to achieve 53 goals. Our defence was also kept very busy at the other end, and managed a tight control of the opposition. Pipa and Sarah restricted Grantham to just 37 goals. The centre was controlled by Natalie, Shayne and Paula who all linked together as a well oiled team should. An other good win under our belts. Well done to all the players from both teams
Sunday 14th January
Two teams represented the club at Hulls netball tournament last Sunday, Under 15s and a high-five squad. The under 15s, although playing well, won 2 games, but lost 3 ,just missing out on a medal. Errors at crucial times proving costly. Special mentions for Rebecca Heald, who played superbly all day, and also some excellent shooting from Nicola Knapton, who's still quite new to the team. .......The High fivers however, THRASHED every body, winning every game to take gold. Winning some games by very high scores along the way. Tremendous team effort, but shouts for Megan Chapman and Laura Major who were the spine of the team. These young players are the clubs future, and its looking very bright indeed. WELL DONE EVERYBODY!!!!!!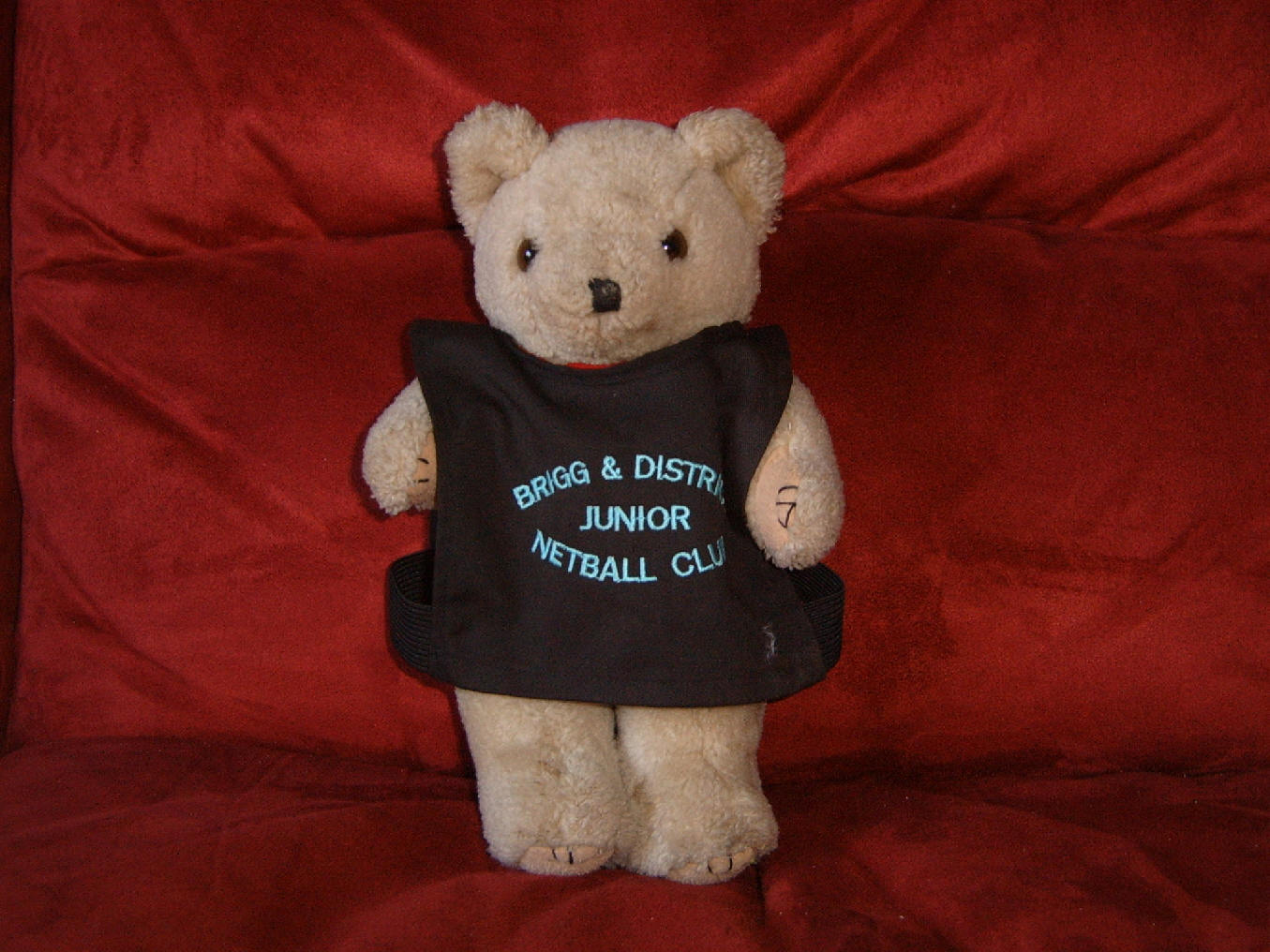 Diggy Teddy Ace Reporter